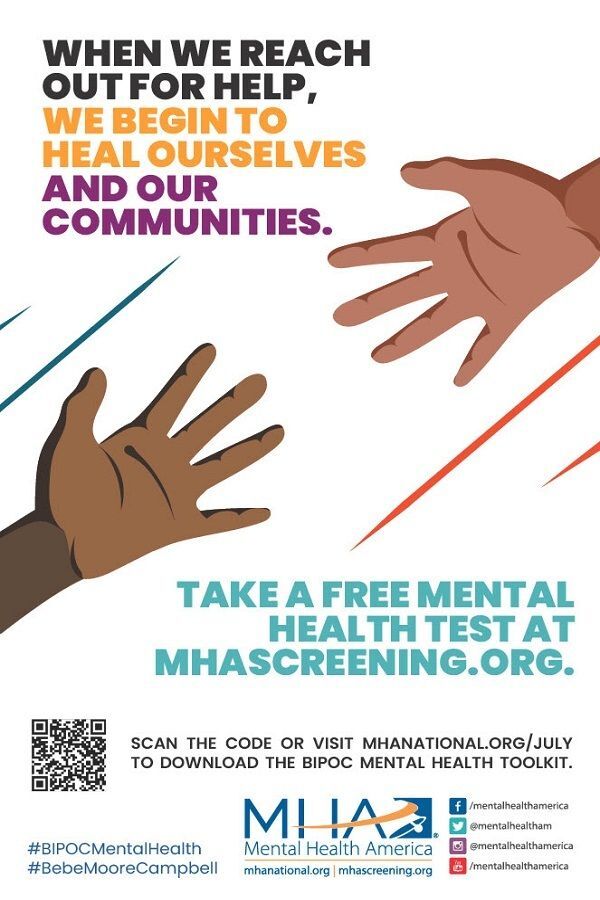 July is a month to honor and recognize the legacy of Bebe Moore Campbell National Minority Mental Health Awareness Month, also known as BIPOC Mental Health Month. The BIPOC acronym stands for Blacks, Indigenous, (and) People of Color.
Bebe Moore Campbell was a prolific writer, advocate, and trend setter who had a special way of telling and writing stories that shined the light on the "cultural identity, community dynamics, and interpersonal connections" within BIPOC communities. Because of her foresight, advocacy, and commitment to the mental health of BIPOC communities, Ms. Moore Campbell's literature helped others to better understand how the residue of racism and marginalization shows up throughout one's lifetime in their mental health. Having strong ties to their culture, community, and connections are buttresses BIPOC individuals use to successfully undergird them when danger of "oppression and systemic racism threaten the environments where BIPOC individuals live, work, play, and thrive".
The president and CEO of Mental Health America (MHA), S. Stribling, asserts that in the past BIPOC Mental Health has been viewed as solely related to "trauma, disparities, and oppression". The goal of MHA is to change the BIPOC Mental Health narrative to "cultural identity, community dynamics, and interpersonal connections".
The MHA theme for BIPOC Mental Health month this year is "Culture, Community, & Connection". People who experience emotional anguish and an inability to cope, despite their culture, need healing that they tend to experience in healthy communities".
Healthy communities include what Operation Xcel has successfully created and sustains—a supportive and shared community in which diversity, equity, and inclusion is valued and appreciated. This intentional means to promote diversity and inclusion is noted in Operation Xcel's Diversity and Inclusion Impact statement on their website https://operationxcel.org/about-us/our-impact.html. Operation Xcel's initiatives from its Diversity Equity and Inclusion Impact Statement is foundational to supporting a healthy culture for BIPOC and all the other diverse groups of people its organization employs:
Operation Xcel is an intentionally supportive community where individual differences are shared and embraced without judgment. This is the type of healthy support system in which people get to realize what they most long for—acceptance without biases. Operation Xcel makes deliberate efforts to ensure that all its employees involve themselves in communities different than their own to gain an appreciation for their similarities and differences. Such an appreciation, along with a strong sense of community and motivated support systems, are essential when attempting to secure the health of all individuals including BIPOC. Unfortunately, even amid connected communities, some people remain adversely affected by previous trauma and dispersions whose healing is difficult to attain. It is when the community realizes that someone continues to act from the premise of pain that it is time to do a mental health assessment to determine if it would be beneficial for that person or people to get professional help. MHA's Mental Health Test is available at mhascreening.org.
BIPOC Mental Health Month (July) is a time for individuals and advocates to reach out, encourage the affected, and check on the collective well-being of members of BIPOC and other communities.
Mental Health America's 2023 BIPOC Mental Health Toolkit offers free resources, suggestions, and information for improved mental health including how to get help coping. The Mental Health America's BIPOC Toolkit is accessible via mhanational.org/July.
You are invited to visit our social media posts as often as you want and remember to leave a comment, like, and share. Check us out on Facebook, Instagram, and Linked In.
Facebook - https://www.facebook.com/profile.php?id=100089647213638&paipv=0&eav=AfYDUIP4GNNy-i_60dvBCIbOnxlK50qPVcToc6xMAj1-vEemUTdxlmj33r5HvGS5XdI
Instagram - https://www.instagram.com/operationxcel/
Linked In - https://www.linkedin.com/company/operation-xcel/