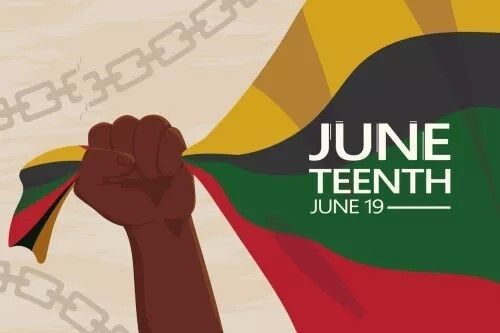 Juneteenth—a combination of June Nineteenth, is the recognition of the date that the Union General, Gordon Granger, read the Emancipation Proclamation to slaves being held in Texas. The Emancipation Proclamation declared that slaves were free. General Granger along with Union troops rode to Texas to enforce General Order 3 to put an end to forced slavery in that state. President Abraham Lincoln had previously issued the Emancipation Proclamation, declaring an end to slavery on January 1, 1863—two and a half years earlier. Not all slaveholders in the South released their slaves nor began to pay them wages for work. Instead, some slaveholders in the South moved slaves to plantations in Texas where slave owners kept the information about their freedom from at least 250,000 slaves.
June 19, 1865, became known as Freedom Day, Emancipation Day, Black Independence Day, Jubilee Day, or Juneteenth. African Americans have celebrated Juneteenth with readings, oral history, parades, concerts, and other festivities for many years. Although some states already recognized Juneteenth as a holiday, it did not become a federal holiday until June 17, 2021, when President Joe Biden signed the Juneteenth National Independence Day Act into legislation. While many African Americans celebrate the 4th of July or Independence Day, still others only celebrate Juneteenth because not all slaves were free until June 19th, 1865—two and a half years later.
African Americans and other ethnicities who recognize its significance honor Juneteenth and what their African American ancestors endured so that future generations would not have to experience the same things that they endured. "In 2016, at the age of 89, former teacher and lifelong activist Opal Lee walked 1,400 miles from her home in Fort Worth, Texas, to Washington, D.C., to get Juneteenth recognized as a national holiday." Ms. Lee believes and encourages other African Americans to remember the fact that if there is any African American who is not free and treated with justice and dignity, then African Americans are still not free in America.
CNN reports that systemic inequities in this country still exist and the inequities are what African Americans "continue to face, such as the racial wealth gap, disproportionate incarceration and longstanding health disparities". Some suggestions to confront the systemic inequities include taking civil action—registering to vote, calling your state representative, and letting them know how you feel, Buy Black (buy products from Black owned businesses), build relationships between younger and older adults, dance to good music, and otherwise have a good time on Juneteenth! On Juneteenth, may all Americans find ways to peacefully confront injustices while still enjoying family gatherings and honoring civil rights pioneers.
May Juneteenth 2023 be a day of celebration and action—a day when all Americans celebrate the date that everyone was to be free. As we all continue to dismantle systemic injustices and the walls that divide us, Americans will get closer to the realization that all men are truly created equal and should always experience the unalienable right to life, liberty, and the pursuit of happiness!
License to share the Juneteenth image is at: https://creativecommons.org/licenses/by-nc/4.0/