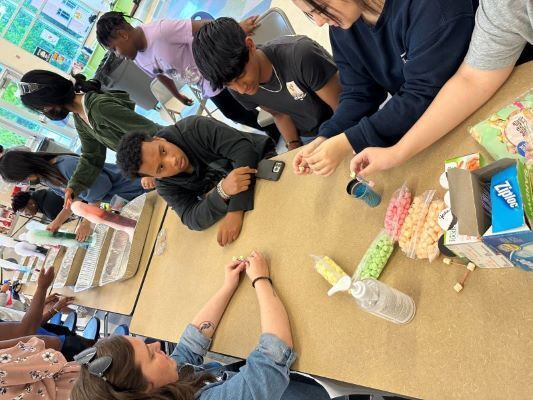 I interviewed Ms. Jennifer Nelson, the Program Director at Operation Xcel, who described what Summer Slide is and she provided a wealth of information for parents, guardians, and other caregivers to foster their understanding of what Operation Xcel offers to avoid 'the Slide'. Ms. Nelson is a former middle school teacher in Title I schools. Loaded with experience as a teacher and as the Program Director for Operation Xcel, Ms. Nelson shares insight with the results of Summer Slide and the answer to the dilemma—Operation Xcel's Summer Camp. Take note that the information in this blog is directly from Ms. Nelson.
Ms. Nelson says that Summer Slide is a term that is used to describe the unfortunate thing that happens when a child is out of school for an extended period and loses what they have gained through daily instruction. Ms. Nelson citied findings from Oxford Learning that imply that when there is no learning, a child may lose months of overall learning— up to two months of Math and Reading are lost. Then, when children return to school, it takes at least two to three months of the school year for children to regain the needed information that he or she lost over the Summer. It is at least November before the child is caught up. The teachers are then limited to the remainder of the school year to get the children back on track learning subjects at their current grade level. Those who are fortunate enough to afford private tutoring pay upwards of $300 month just for afterschool tutoring. Operation Xcel offers free afterschool tutoring/learning for elementary and middle school children at several sites in Guilford and Rockingham counties. The American Camp Association finds that it costs approximately $88 per child per day to attend Summer Camp. Operation Xcel Summer Camp is in place to provide learning continuity for children so that they can avoid the results of Summer Slide.
Often older children in middle school stay at home to watch (babysit) their younger siblings while their parents work during the Summer. National and local news outlets report that there is food insecurity in our state including Guilford and Rockingham counties. Although Guilford County Schools recognize the need to continue providing lunch during the Summer, offering free meals that families can pick up, many children lack the transportation to get there. Still others associate a stigma with having to get free meals to address the food insecurity. Operation Xcel longs to erase the stigma. Our Summer Program provides breakfast, lunch, and a snack each day. It is the desire of Operation Xcel's founder/Chief Executive Officer, Mrs. Gladney, and Ms. Nelson to ensure that children do not have to worry about food nor shame. Ms. Nelson addressed the fact that Operation Xcel programs foster social and emotional learning while providing children who attend with tools and intercommunicative learning to be more resilient.
The expenses of both Operation Xcel After School and Summer Camp programs are covered primarily by grant funding, donations, and sponsorships. Fortunately, Operation Xcel offers After School tutoring and Summer Camp employing certified teachers making the programs free of charge to families whose child(ren) attend(s). These certified teachers have the flexibility to be creative in how they teach/tutor by providing more hands-on activities with students on the same path toward increased learning and retention in Science, Technology, Engineering, Arts, and Mathematics (STEAM) areas. The Summer Camp offers three hours of academic focused programming, enrichment, poetry, and robotics four times a week. The children also go swimming and go on weekly field trips at no cost to the families. What Operation Xcel Summer Camp offers that most do not is a unique focus on academic learning and growth.
Thanks to Ms. Nelson you should now be able to define Summer Slide and what is the answer to ensure that your child continues learning throughout the Summer. That answer is Operation Xcel's Summer Camp. There are still available slots at High Point, Jamestown, and Jackson locations. Oaks Springs, and SUMC locations are already full. Visit our website to register your child(ren). https://operationxcel.org/what-we-do/summer-program.html