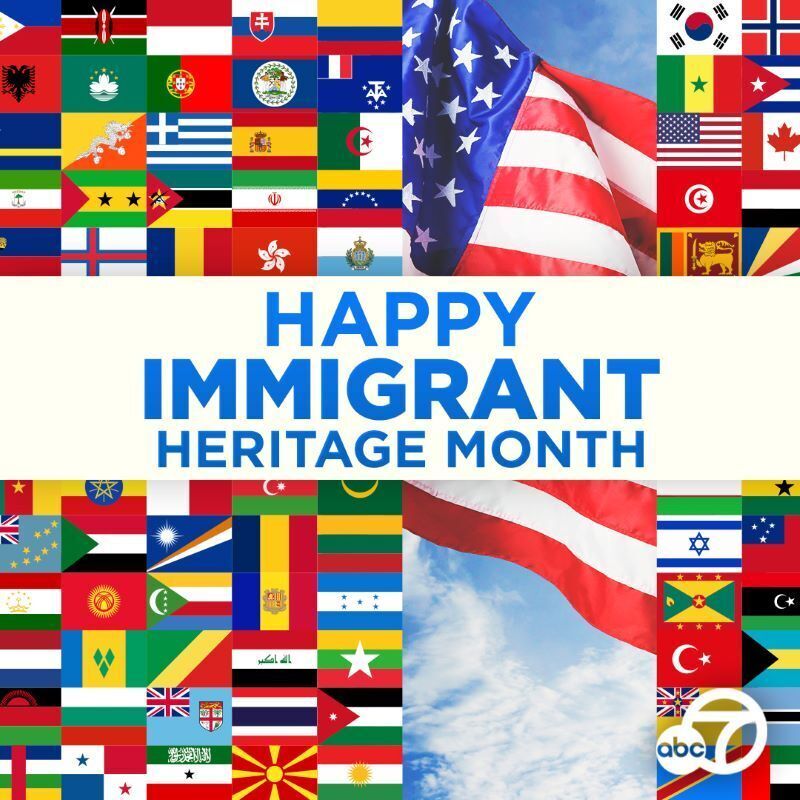 America is comprised of more than 325 million people with nearly all of us having immigrated from somewhere other than the United States. It has been this country's immigrant heritage that has shaped its very foundation in every area of its economy and industry since the country's beginning. Many immigrants, escaping persecution or war, have left family, friends, and their native communities in other countries to relocate to the United States. It has and continues to be the quest of immigrants to obtain refuge and secure opportunities to contribute to the economy and diplomacy of the United States. In doing so, immigrants effectively obtain resources to meet their basic needs and take advantage of the opportunity to be U.S. citizens. The United States government recognizes the value that Immigrants impart in almost every segment of society and have been recognizing the month of June as Immigrant Heritage month since 2004.
In 2020, there were nearly 326 million people living in this country of which 86% were born in the United States and 14 % are naturalized citizens or noncitizens. There were nearly 45 million immigrants in the United States. At that time, one out of every four children had a parent who is an immigrant. There were 75.3 million children ages 0 – 18 in the United States. 75% of those children have parents who were born in the U.S., 22% have parents who are either noncitizens or naturalized citizens. The remaining 3% of children ages 0 – 18 were not U.S. citizens. There are systemic issues—such as access to healthcare and education, that adversely affect children whose families are immigrants.
Each 'heritage' month is a way that we, as Americans, can conduct a self-check-up and assess how well we know our own heritage. Where did your great-great grandparents live before they came to America? What language do they speak in that country? What is their ethnicity and culture that is unique to their heritage? These questions are some that recent immigrants can readily answer but it may be a little more challenging for those who are older. Why not let Immigrant Heritage Month be a fresh beginning—a time to learn more about your own heritage, promote diversity, be more inclusive, and set a goal to get to know neighbors whose heritage is different than your own. Immigrant Heritage Month can be a time when we recognize and value the contributions that immigrants have made to the United States.
Operation Xcel employs some bilingual staff to work with children and parents whose primary language is not English. These children come from homes that only speak Spanish—it being the language most widely spoken besides English in America. One of the Operation Xcel Site Directors, Ms. D. King, offers insight about how Operation Xcel promotes inclusiveness and multi-cultural diversity as part of its programs:
At Operation Xcel we have one of our very own teachers, Mrs. Vivian, who is an immigrant from Cuba. She is bilingual. She helps with the translation of documents, student homework, marketing, community gathering, parent concerns and needs. She also offers Spanish as an Enrichment Activity for our students. Mrs. Vivian also accompanies me to the feeder schools to show support for our Hispanic/Latino families by participating in open house, and PLC, etc.
We also incorporate Cinco De Mayo and other Hispanic heritage into our parent nights throughout the school year. As a Site Director I am also learning how to communicate with my parents when they arrive to pick up their student. It shows respect for their language and demonstrates that we are here not only as a serve but as a support. Our hope is to have a class for parents of the students we serve to learn English for the 2023-2024 school year.
Have you ever considered assisting a child for whom English is their second language with reading or other subjects? Operation Xcel has volunteer slots available that you might fill in celebration of Immigrant Heritage month and beyond.
Click on this link to learn more about how you might get involved: https://operationxcel.org/get-involved/volunteer.html
Maybe you are not able to volunteer. Will you consider donating to help Operation Xcel continue to offer programs to children/youth via its Afterschool Program and Summer Camp at no cost to the participants. There is a button to donate at the top of each of the pages on our website or you may simply click on this link: https://operationxcel.org/get-involved/donate.html
Operation Xcel appreciates your support!
Happy Immigrant Heritage Month!!!
The flag image is used courtesy of Twitter – ABC News 7 https://twitter.com/ABC7/status/1408794719577010177/photo/1